Martin Panchaud
Zürich
Switzerland
m@martinpanchaud.ch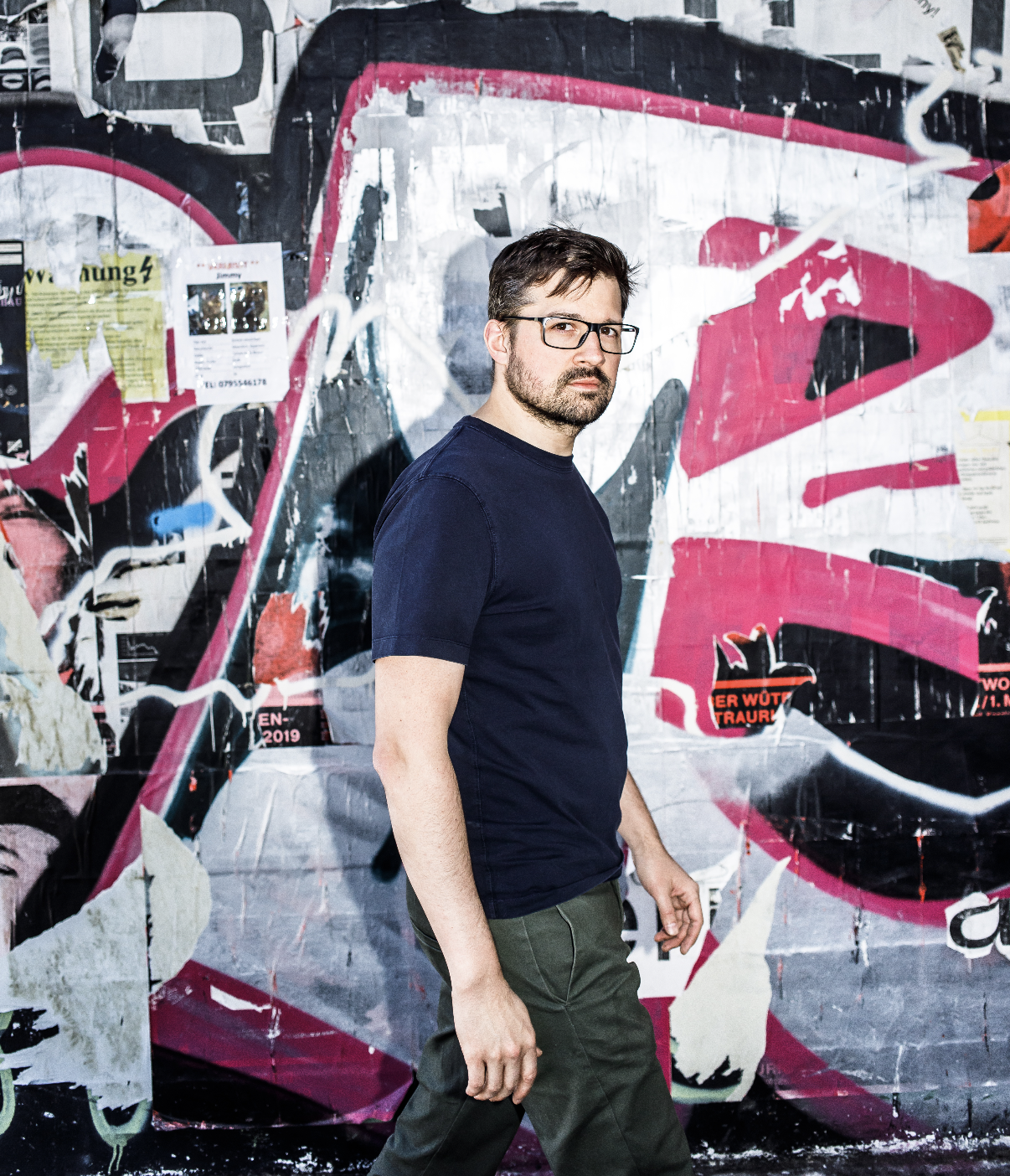 Photo: Dominique Meienberg
Martin Panchaud was born in 1982 in Geneva (Switzerland) and has been living in Zurich for a few years now. Author-graphic novelist, he has produced several publications, large narrative formats and computer graphics, in a unique visual style.
His dyslexia was a hindrance that significantly impacted his schooling. It made him place reading, as well as the interpretation of shapes and their meanings, at the center of his research, and prompted him to choose a very particular style to express his creativity and to tell stories. He received several prizes and awards, and carried out artistic residencies in order to develop his creative projects. Exhibited in various cultural establishments in Europe, such as the Barbican Centre in London and the Onassis Stegi Cultural Centre in Athens, he particularly stood out for his impressive work called SWANH.NET, a 123-metre-long illustrated adaptation of Star Wars Episode IV, published in 2016.
His first graphic novel, La couleur des choses, a 240-page book published in German by Edition Moderne, was released in 2020. The French translation of this many awarded work will be available on September the 9th (Editions Çà et là).
Publications
2022 — La couleur des choses, 230 pages, Editions Çà-et-là, F
2021 — Fleur de coton, Flip book, 50 pages, Literaturhaus, Vorarlberg, AT
2020 — Die Farbe der Dinge, 230 pages, Edition Moderne, CH
2019 — Durchquerung, 7 pages, Strapazin #134, CH
2017 — Die Farbe der Dinge, 13 pages, Strapazin #128, CH
2017 — Into the Unknown, exhibition catalogue, Barbican International Enterprises, UK
2016 — Portraits 1-4, serigraph, 69 x 69 cm
2016 — swanh.net, adaptation of Star Wars Episode IV, 27 x 12'307 cm
2016 — Déminage, Documentaire fictif pour FSD (The Swiss Foundation for Mine Action), 4 pages, CH
2015 — Bernard Van Deik, Infographic Design in Media, 2 pages, Image Publishing, CHN
2014 — Internet, Wo bist du denn zu Hause?, 7 pages, Strapazin #115, CH
2014 — Buying, Selling and Usufruct, 9 pages, Der Pfeil #4, DE
2013 — 22nd Victory, large size narrative print, 400 x 120 cm
2010 — Décomposition Psychique, large size infographic narrative, 137 x 120 cm
2009 — Bernard Van Deik, in Jardin, 13 pages, L'Octopode, CH
2003 — K and other novels, in Le Troglodyte au supermarché, 12 pages, L'Octopode, CH
Solo exhibitions 
2020 — Die Farbe der Dinge ALTEN KASERNE, Winterthour, CH
Group exhibitions
2023 — Couleurs ! 50e Festival international de la bande dessinée, Angoulême, F
2020 – 2021 — Graphic Novel mit Battle of Print, Wilhelm Wagenfeld House, Bremen, D
2020 — Un autre monde… possible, Catherine Niederhauser Gallery, Lausanne, CH
2019 — Fumetto Satellites, 041 IG Kultur, Lucerne, CH
2019 — Into the Unknown: A Journey through Science Fiction, Kunsthal Rotterdam, NL
2019 — Into the Unknown: (…), BRANDTS, Odense, DK
2018 — Into the Unknown: (…), Onassis Cultural Centre, Athens, GR
2017 — Into the Unknown: (…), Barbican Centre, London, GB
2016 — BANG! Evolution de la bande dessinée à Genève, Le Commun, Geneva, CH
2014 — Bourses de la Ville de Genève, Centre d'art contemporain, Geneva, CH
2012 – 2011 — CFPAA (Centre de formation professionnelle des arts appliqués), Geneva, CH
2010 — Jardin, Villa Bernasconi, Geneva, CH
2009 — Jardin, Ambassade de Suisse, Paris, F
2004 — Le Troglodyte au supermarché, Sion, Tramelan, Fribourg, CH
Awards / Residences / Grant
2023 — Fauve d'Or, Angoulême, INT
2023 — Grand Prix de la Critique de l'ACBD, FR
2022 — Prix Toute Première Fois, BD Colomiers, FR
2022 — Arbeitsstipendium Covid 19, Stadt Zürich, CH
2021 — ICMA Award, Innovative book ideas – Silver, INT
2021 — Comics Creation Grant, ProHelvetia, CH
2021 — Schweizer Kinder- und Jugendbuchpreis, CH
2021 — Cité Internationale des Arts, residence, Paris, Kantons Zürich, CH
2021 — Arbeitsstipendium Covid 19, Stadt Zürich, CH
2020 — Die besten Comics des Jahres 2020, Tagesspiegel, D
2020 — Best Swiss Comic Debut Work Award, Delémont'BD Festival, CH
2020 — Literature Award by the City of Zurich, CH
2020 — Max und Moritz Prize, Nominee for Best International Comic, D
2018 — Literaturförderung des Kantons Zürich, CH
2018 — Comic-stipendien der deutschschweizer städte, Förderpreis, CH
2021 — Visual art creation Grant, ProHelvetia, CH
2016 — Grant, Contribution to the creation, ProHelvetia, CH
2016 — Kantar Information Is Beautiful Awards, Kantar, – Silver,  INT
2016 — 366 Award, Creative Chair, UK
2014 — Bourses Berthoud, Lissignol-Chevalier et Galland, Geneva, CH
2013 — Cité Internationale des Arts, Paris, residence, city of Geneva, CH
2012 — Young Comic Art Award by the canton of Geneva, CH
2011 — Aid to Creation grant awarded by the City of Geneva, CH
Talk
2021 — Martin Panchaud — Die Farbe der Dinge, Literaturhaus Zürich (CH)
2017 — Martin Panchaud et les nouveaux langages de la science fiction,
Salon francophone, ZHAW Zürcher Hochschule Angewandte Wissenschaften, Winterthur (CH)