La couleur des choses / The Color of Things

Parution le vendredi 9 septembre 2022
Format : 17x23cm, relié
236 pages couleurs
Prix de vente : 24 euros
ISBN : 978-2-36990-308-6
Synopsis :
Simon, 14 ans, trop aimé, mal aimé, tant par ses parents que par ses "amis" (l'amitié est dure, ici, sinon absente, elle ne sauve pas) est entraîné par une prophétie dans une succession de violentes mésaventures, à la poursuite simultanée de son père et de 16 millions de £, dans une lutte contre la mort et contre son propre effondrement. 
Au croisement de plusieurs genres, La couleur des choses déploie sur plus de 200 pages un récit pris d'un point de vue inhabituel : scènes d'intérieur et d'extérieur rendues en mode aérien, où transitent des personnages réduits à un cercle de couleur, reliés par un trait à des zones de dialogues. 
Et dans la distance qui sépare l'image infographique de la complexité du monde réel se tient une invitation au regard et à l'imagination.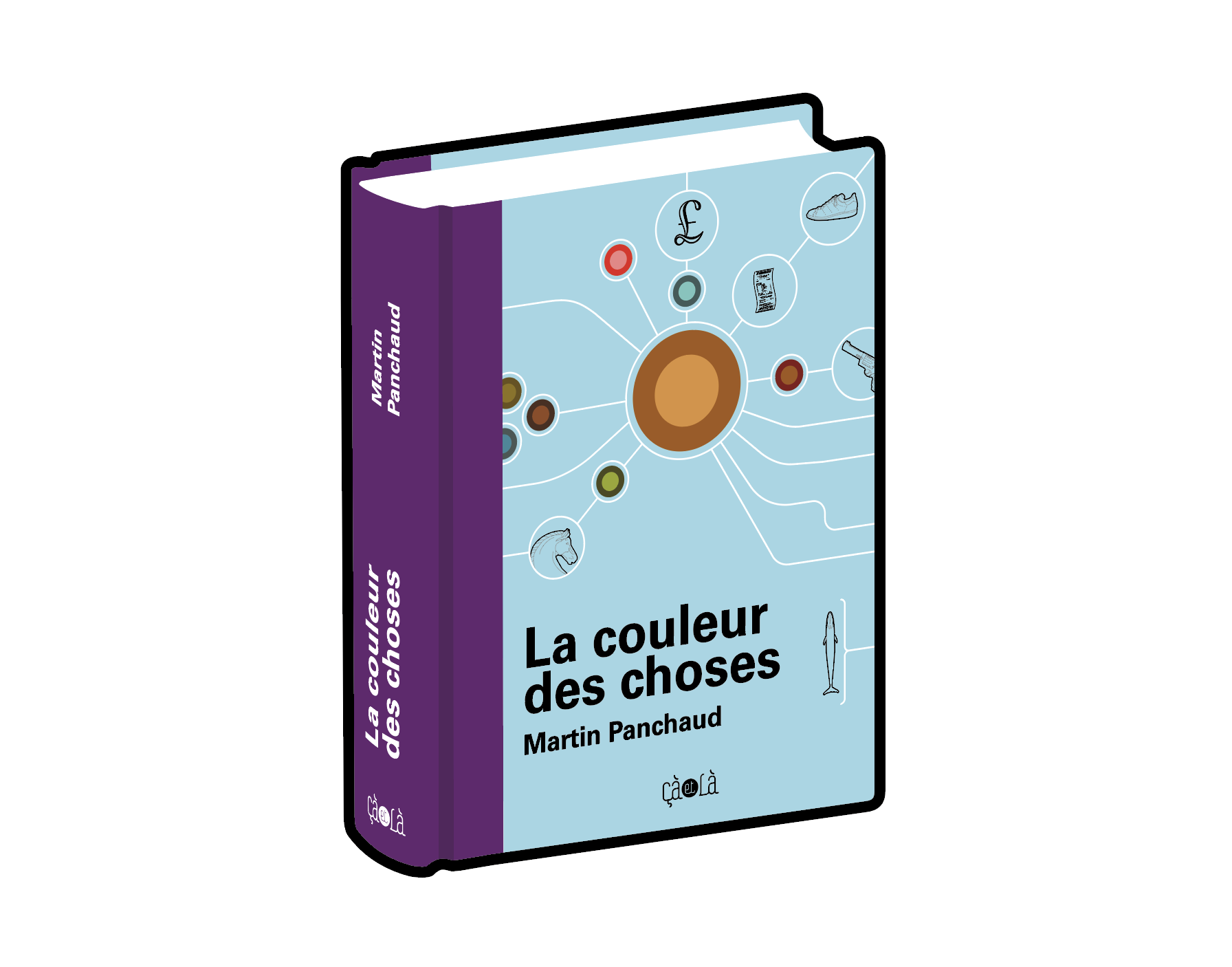 Swiss Children's and Youth Book Award 2021
« With 'Die Farbe der Dinge' ('The Color of Things'), Martin Panchaud has created a complex and highly original work of art that freshly and insolently challenges the habits of reading images and texts. With its playful images and its narrative rhythm typical of the new media, this graphic novel may be of particular interest to adolescents.
The characters, represented by coiled circles, move on the white surface of the page and in panels made with a few strokes. Thin lines connect them to parts of the dialogue. Computer graphics, panoramas and map excerpts are interlaced. At first glance, one does not expect the plot to accelerate so much and to develop its own rhythm.
Anyone who is drawn in by the striking format and the abstract coding is unexpectedly drawn into the adventure of the protagonist Simon. The colorful circles come to life, their emotions are touching, as they argue, love, worry and despair. A searing family drama takes its course despite a spectacular victory in the horse race. In the end, Simon, as a young adult, takes his destiny into his own hands.
This unparalleled coming-of-age story deftly juggles elements of pop culture, exaggerates scenarios of violence or sexual fantasy, and expands the gambling narrative tradition with a completely new variation. »
https://www.prixlivrejeunesse.ch/
The winning book of the Swiss Children's and Young People's Book Prize is anything but kids' stuff.
« Geneva-born cartoonist Martin Panchaud wins this year's Children's and Young Adult Book Award for his graphic novel event « The Color of Things. » »
Geneva-based Martin Panchaud takes a radically new approach with his book « The Color of Things » – and wins the 2021 Children's and Young People's Book Prize with it.
Martin Panchaud, with « The Color of Things » won the second edition of the Swiss Children's Book Award. The graphic designer from Geneva talks about his book to our microphones
Best Comic Books of 2020 (Tagesspiegel)
The Tagesspiegel jury has voted: These are the best comic books of 2020. 1st place went to an adventurous grotesque in infographic style.
Swiss Prize for the Best Debut Graphic Novel 2020
THE BEST BOOKS FROM INDEPENDENT PUBLISHERS
THE BEST BOOKS FROM INDEPENDENT PUBLISHERS,
« The Color of Things » is on the 2020 Independent Publishers Hotlist!
Hotlist continues to publish a list of the 10 most outstanding books of the year in 2020.
« The Color of Things » is one of the 30 candidates!
MAX AND MORITZ AWARD NOMINEES, Best International Comic Book
For his first long read graphic novel, Martin Panchaud is not afraid to offend. In the « Color of Things », the Swiss artist doesn't conform to many codes of the genre. The unusual design could take some time to get used to for some readers, but this is also what makes the visuals real eye-catchers.
Martin Panchaud on his graphic novel « The Color of Things » :
The idea here is to make a pact with the reader and ask him to read an image as he would read a text.